Adjusting the tea to the season's taste
Dear our valued customers,
We hope you are doing well. Here in Kagoshima, the climate is still hot and humid during the day time. However, with cool winds in the evening or early morning, we can smell autumn season in the air gradually.
In Japan, there is an event which makes us feel autumn. Have you ever heard moon-viewing, "Otsukimi" in Japanese? It is a traditional Japanese festival usually held in September or early October, to celebrate the beauty of autumn full moon, in 2023, it was in 29th September. We hope you saw it in your country as well.
At the Kagoshima Seicha's domestic retail stores, "Otsukimi-cha" is sold as a seasonal green tea sencha product, especially recommended for Otsukimi. Viewing full moon, people often gather and enjoy Tsukimi Dango which is special rice dumplings shaped like full moon. Other than that, people often like to enjoy some confectioneries made by seasonal food such as chestnuts or sweet potatoes. Our Otsukimi-cha is recommended for this event, also for being as a good accompany with these seasonal confectioneries. Moreover, there are other seasonal Sencha products that go well with every four seasons.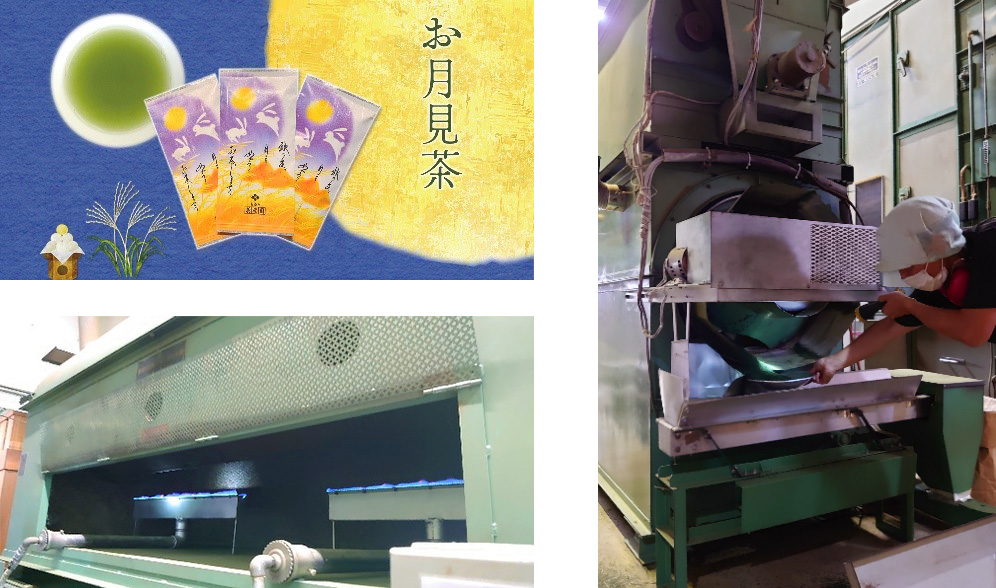 \Adjusting the tea to the season's taste/
You might know that people's sense of taste changes by season. For example, in a hot season is preferred light, refreshed, crisp taste, on the other hand, cool or cold season is preferred thick, strong, roasted flavor. Kagoshima Seicha's tea master or artisans to manufacture finished tea from Aracha (semi-finished tea), they are very careful to manage for blending and burner's temperature for roasting not only the kind and type of tea, but also, the consumer's sense of taste which is changed by the seasons accordingly. Moreover, they are also considering about humid and temperature of the manufacturing day. We do many assessing processes through the manufacture in our factory.
In this newsletter, we introduced Japanese seasonal event and our seasonal product of the domestic retail stores. While we appreciate nature, tea fields, tea farmers, we try to manufacture tea for adjusting the tea characteristics itself also the taste or fragrance changing by season accordingly. Thank you for reading.