Tiny self-protection against insects!
Dear our valued customers,
We hope you are doing well. Here in Japan, summer vacation is finished at the end of August for school children. It will be autumn from next month according to the calendar, but still summer season is continuing with around 30℃(80℉).
During this season, the tea will be interval of the harvest, but the farmers are struggling with weeds and insects for managing the tea fields. Especially in the hot and humid summer of Kagoshima, it should be an excellent condition for them, fortunately or unfortunately.
In organic farms, the use of chemically synthesized pesticides is prohibited, and the use of pesticides such as naturally derived pesticides must be used, so the use of pesticides is restricted. Therefore, at one of the organic farms, insects are blown away and removed by a machine that uses the wind.
By the way, do you know the tea as itself has a self-protection with "fluff"?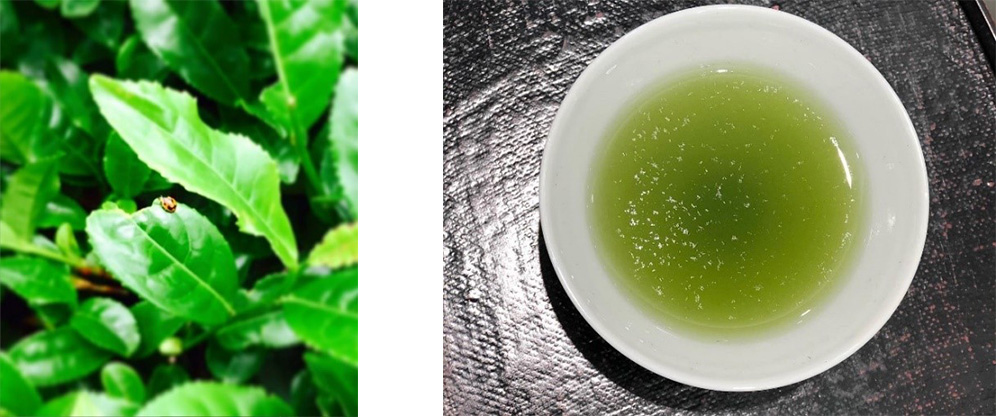 \Tiny self-protection against insects!/
It is a hair that is called "Mouji" in Japanese, which appears on the underside of soft young shoots especially first flush tea. They are grown only for short terms just before the tea leaves turn from shoots to leaves. It is the one for preventing the soft and new leaves from being eaten by insects and also from too strong sunlight.
Have you ever noticed the tiny dust on the surface of the cup of tea? This is it. It might be checked whether the cup is completely clean or not, however, in other words, that tea with floating Mouji is proof of fine tea using young and soft shoots. For your information, it can be seen with tea leaves, such as Sencha or Gyokuro, Matcha cannot be seen because it is made by grinding tea leaves. There is no doubt that it takes a lot of time and effort to grow tea, but we can see the tea itself also fight or coexist with nature.
This time, we introduced tea that grows strongly against insects. Thank you very much for reading.
References: Nihoncha Instructors Association (edit), Nihoncha Certification Committee (supervised), Nihoncha-no Subetega Wakaru Hon [The book the tells you everything about Japanese tea. Official text book of Tea Certification]
(Nihoncha Instructors Association, 2008)  ( from page 6 to page 7 )