Efforts to tea making
that brings about the four seasons
With our traditional skills and state-of-the-art facilities, we will make delicious tea that will increase in taste according to the four seasons.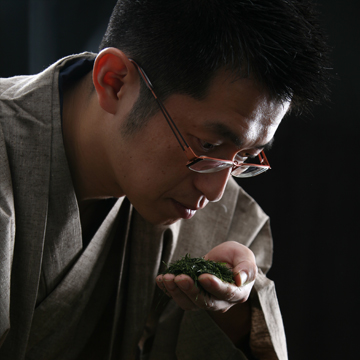 CHASHI – TEA MASTERS –
These are craftsmen who are versed in tea production. It is always their belief to deliver the best taste and aroma of tea to everyone.
Processing
Scent is an important element that affects the taste of tea.
The degree of roasting the tea will bring out the scent and flavor. Tea masters will assess the humidity and temperature of the day, and roast the tea, aiming at the apex of its aroma and taste.
In particular they concentrate consciously on the scent, and adjust the roasting power accordingly.
Blend
An important point that provides a delicious tea is the blend.
Even in the same field and the same variety, depending on the day it is picked, the tea leaves are different. From all these superior tea leaves, tens of varieties are selected and blended.
Tea is a living product.
There are subtle differences depending on the climate for that year.
We blend the tea so that it brings out the taste and fragrance best suited to the customer tastes that change with the seasons.