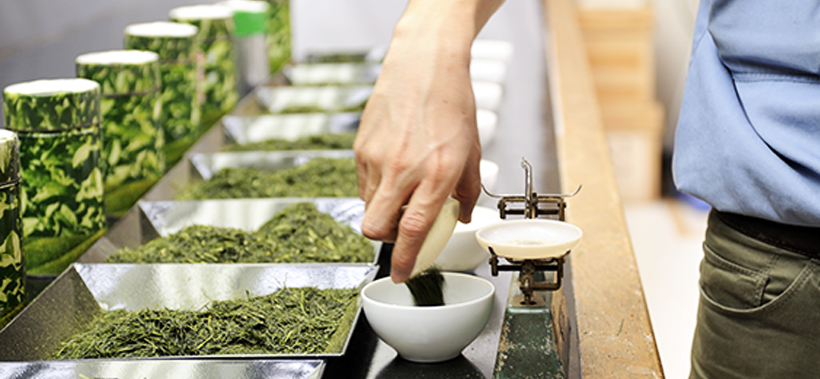 We sensitively capture the needs, and totally produce what the times demand.
To provide products that meet the ever-changing needs of our customers, we do everything from development, production and packaging, so we can deliver safe and delicious tea from Kagoshima to the world.
Wholesale sales

Kagoshima Seicha tea is shipped as a tea product by processing high-quality tea leaves and dried tea leaves purchased from contract farmers and tea markets at our own factory, and used as ingredients for various products for various companies.

Product development

We actively work to develop new products that meet the needs of the market; we are also focusing on organically grown tea as well as healthy high-performance green tea.

Manufacturing

Considering the brand image and target, we will select the most appropriate tea leaves, and we will custom-make original products that will respond to diversifying consumer preferences.

Packaging/Packing

In order to enrich the daily life with tea for the consumers, we work on packaging starting from the design, so that it will be fun to the eye, making the consumer want to reach out for the product.
Product manufacturing flow
1- Receive dried tea leaves

2- Blending dried tea leaves

In the first process, dried tea leaves purchased from contract farmers and the tea market are sorted and classified into tea varieties, production are and usage. The teas are blended so the quality is uniform for each lot.

3- Removing metal with magnets

Foreign matter such as metal pieces are removed using a strong magnetic force of 12,000 gauss and such.

4- Storage

Blended dried tea leaves are stored in refrigerated warehouses with temperatures below -18°C to prevent quality deterioration.

5- Process & finishing machine

To adjust the shape, the tea leaves are run through several sieves, cut, stems removed and powered tea removed.

6- Removing metal with magnets

MForeign matter such as metal pieces are removed using a metal detector.

7- Drying with heat

The tea leaves are roasted to the ideal depth suitable for the season, or according to the customer requests to pull out the full depth of the aroma and taste of tea.

8- Metal inspection and removal of foreign bodies

9- Final tea blending

The tea will be blended according to the consumer's taste and stored. We will also package so that it will meet customer needs.
Handling service
Organically grown tea/US standards/EU standards

Organically grown tea in Kagoshima Seicha meets the organic JAS standards.
This is treated as equivalent to the USDA standards and EU standards, and is permitted to display the "organic" sign on the product in the United States.

Packing

We will continue to carefully pack under strict quality control, every single bag so as not to impair the taste and aroma of the original tea.

Pesticide residue testing

Tea leaves that have been cultivated by contract farmers will first undergo pesticide inspection. Because the tea leaves are cultivated with care about safety, we conduct stringent quality checks at the commercialization stage as well.

TB manufacturing

We are manufacturing tea bags, a simple way to enjoy tea without compromising its flavor. Of course we are using carefully checked and selected tea leaves.

Bagging

Because we are delivering our products to the customer, we will take the utmost care in bagging our products so that the appeal is not lost.